What is a Trust Deed?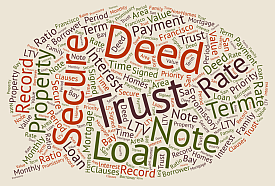 A Trust Deed, like a mortgage, is used to record transactions in which real property is involved as security. Trust Deeds are recorded to secure Promissory Notes signed by the borrower, which clearly state the interest rate, payment terms, time period covered by the Note and any special clauses.
Our Trust Deed Notes specify that interest payments be made monthly. The majority of our Trust Deeds are secured by single family homes in the greater San Francisco Bay Area, and funded by private money lenders.